Our Teachers & Staff ...
Here at The Jam Cellar, we boast a crew of instructors that we can really say is unrivaled anywhere in the country. Whether the dance be Lindy Hop, Charleston, Balboa or even Collegiate Shag, our instructors are sought after all over the world as some of the best teachers, performers and dancers in the world.
Here they are...
Al Mattei
Al (also known as Bigg Al) started learning vernacular jazz partner dancing on December 4, 1997 at a restaurant called Katmandu in Trenton, N.J. Throughout his social dance career, he has taken a comparative approach to the art form because many of the places he learned to dance had multiple classes in different dance styles. He has taken at least a beginner lesson in 32 different kinds of partner dance, and in 2003, he completed a 24-week course in D.C. hand dance. Al currently films the lesson clips that you can see on youtube.com/jamcellar, and is Jam Cellar's Glen Echo volunteer coordinator. Taking a cue from Leon James, he has an unusual collection of vertically-striped socks.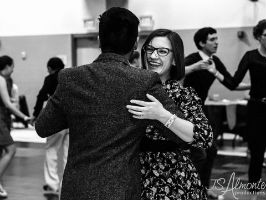 Annabel Truesdell Quisao
Annabel is a social dancing addict who loves the communication, spontaneity, and musical interaction fostered on the swing dance floor. After hearing many enchanting stories of her grandparents' favorite pastime--dancing to big bands--it was no surprise when Annabel became hooked on Lindy Hop during her first exposure at Colgate University, her alma mater, in 2003. She began constantly traveling to dance with as many people as possible, and along the way, she learned that Balboa and Blues dancing were equally thrilling. Annabel loves the challenge and excitement of competition and has taken away top prizes in all three dances at several events including the International Lindy Hop Championships, All Balboa Weekend, and BluesShout. While competition yields prizes, her true reward comes in spreading the joys of dancing. Annabel has been teaching regularly since 2006 from State College, PA to Memphis, TN to Boston, MA to Washington, DC. She adores seeing students develop the technique and enthusiasm to inspire themselves and their partners and have fun, fulfilling dances.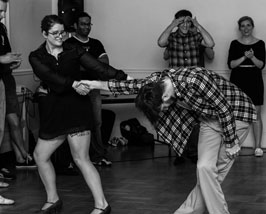 Caroline Seipp
Caroline started dancing her senior year of high school in 2007 when her sister dragged her out to the Jam Cellar for New Blood Night. She immediately became addicted to Lindy Hop! After graduating from high school, she attended James Madison University and began her swing dance teaching career at the JMU Swing Club. Soon after graduating from JMU in 2011, Caroline began teaching as an official Jam Cellar instructor. She has also taught in various locations in Virginia including Richmond, Charlottesville, and VA Beach.
Along with teaching and dancing her face off, she also is an active committee member of the Washington DC Lindy Exchange (DCLX), and also helps with event publicity with Jammin' on the James. Her passion for the dance and teaching are endless, as are her student loans.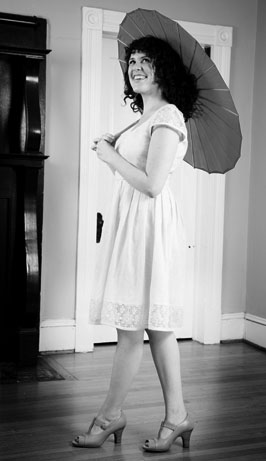 Chelsea Lee
Chelsea got bit by the swing dance bug in 2007. Since then she has fallen in love with Balboa, Lindy Hop, Collegiate Shag, and a bunch of other swing dances she would love to talk with you about, or, better yet, dance with you. She is known for her infectious smile and creativity on the dance floor and is proud to have won awards at events like All Balboa Weekend, the Eastern Balboa Championships, and Hot Rhythm Holiday. She has taught with her partner David at events such as the Eastern Balboa Championships, the Twin Cities Balboa Festival, the Canadian Balboa Championships, Hot Rhythm Holiday, and Shag Explosion, and was a special guest mentor for the 2012 Balboa Experiment. As a teacher, she brings enthusiasm, organization, and an appreciation for students' different learning styles as they explore the dance. She loves being a part of the Jam Cellar crew.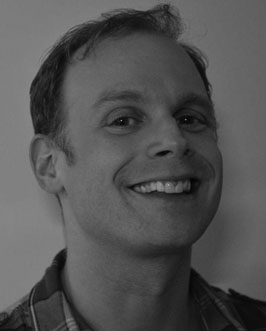 Curtis Breitenlohner
Curtis would prefer that you get to know him in person.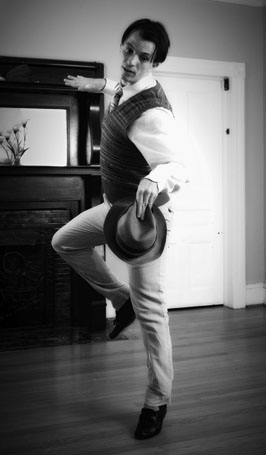 David Lee
David has been passionate about swing dancing since he first started in 2006. He loves to share his enthusiasm for Lindy Hop, Balboa, Collegiate Shag, Charleston, and numerous other swing dances. He is known for his musicality and creativity on and off the dance floor and excels at breaking down mechanics in a way that is accessible to dancers of all levels and learning styles. His dance accomplishments include placements at All Balboa Weekend, the International Lindy Hop Championships, Lindy Focus, and Hot Rhythm Holiday. He has taught with his partner Chelsea at events such as the Eastern Balboa Championships, the Twin Cities Balboa Festival, the Canadian Balboa Championships, Hot Rhythm Holiday, and Shag Explosion, and was a special guest mentor for the 2012 Balboa Experiment. He loves being a member of the Jam Cellar crew.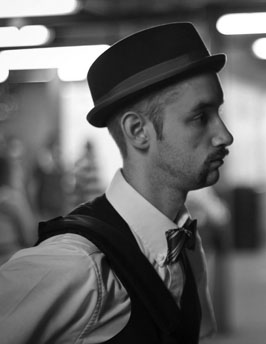 Greg Stasiewicz
One summer in high school, Greg went to a swing dance and despite not being sure if he ever got the basic step right that night, the experience struck a spark that ignited a desire to learn to swing dance. Unfortunately, a similar spark ignited at the venue 3 nights later burned the building to the ground. Several months later he saw an ad for another local dance and that, as they say, is history. When he moved to DC from North Carolina in 2008, he fell in love with the DC swing scene and has been part of the Jam Cellar crew ever since.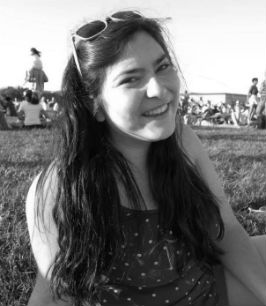 Gretchen Midgley
Gretchen was first introduced to swing dancing her freshman year of college, but she considers the true start of her dance career to be when she stumbled through the doors of the Jam Cellar a year and a half later and learned to swing out. She was bitten by the lindy bug hard, going on to become the president of the Catholic University swing dance club and founding its lindy exchange. Since then Gretchen has continued to instruct and mentor the CUA swing club and helped to establish the Jam Cellar's College Program. She is passionate about seeing new dancers get as excited about lindy hop as she is! Gretchen also loves traveling to dance and is a proud organizer of DCLX. She is constantly looking for ways to meld lindy hop with her other loves, tap dancing and musical theatre, to varying degrees of success.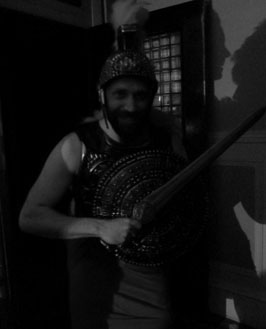 Jason Niesz
Jason is lately returned from an extended stay on a desolate Mediterranean island. He spent years as the Duke of Milan, a role he one day hopes to reassume. He is a devout scholar of the liberal arts, and has power over spirits. Together with his delicate, tricksy servant Ariel, he orchestrated an escape from exile and the marriage of his daughter, Miranda. Recently he has broken his staff, buried it certain fathoms in the earth, and deeper than did ever plummet sound he drowned his books. Now, late in life, he seeks passage to Naples and a peaceful reunion with his treacherous brother.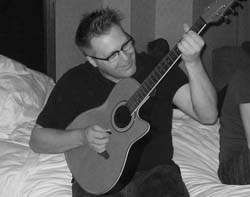 Jeff Booth
Jeff has been dancing for a nearly twelve years(!). A swing dance history enthusiast, Jeff has amassed one of the most extensive collections of classic swing dance footage in the country. As DC's own swing dance historian, Jeff helps people learn while keeping sight of lindy hop's roots. He has been teaching for over nine years and is sought after for his specialized knowledge. He is also an accomplished musician who, in a former life, appeared on MTV with his band.
Julia Seymour
Julia Seymour is the Tuesday night volunteer coordinator for The Jam Cellar. She fell in love with swing dancing after attending a dance in spring 2007. Since that time, Julia has expanded her knowledge of the dance exploring lindy hop, balboa and charleston. Her passion is social dancing and introducing non-dancers to swing. She dances frequently in DC including at The Jam Cellar each week and often travels to other cities to dance.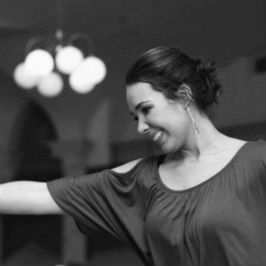 Lauren Devoll
Lauren is the one to blame for any snarky newsletters and unflattering Instagram shots. Though she escaped without accent, before transplanting to DC in 2014, her Lindy Hop journey began in Fort Worth, Texas. Her playful and expressive style has led her to the finals of several Jack-N-Jill contests across the country. If you don't smile when you dance with her, you're doing it wrong. And she'll probably tell you. #GoFollowJamCellarOnInstagram